Recruitment, Events and more
Dear Atlantiss Community!
We'd like to announce that we're looking for people who would like to join our project and help us and players as a Game Master.
As for potential volunteers, we can guarantee propitious atmosphere and a chance to develop your own skills. We hope that recruiting new Game Masters will improve our support.
By being a candidate you need to:
Know the server and forum rules splendidly as well as the netiquette, and all the rules that will be submitted to you right before you will take on your duties;
Know the English language;
Have the ability to establish an easy contact with others;
Know how to work as a team;
BE IMMUNE TO STRESS;
This news does not concern people who:
Were punished on the server or forum;
In the past belonged to the Atlantiss administration and for some reason don't belong anymore;
If you want to volunteer for the Game Master position on the Support section apply here: [email protected]
In the topic write [Support - your name];
In the content write about yourself, your passions, hobbys etc. and shortly introduce yourself;
Write much without grammar mistakes;
Remember to write clearly;
---
Graphic designer wanted

Atlantiss team is looking for a graphic designer who would be eager to help us create graphics for marketing purposes and new projects. We encourage all those interested to submit an application via e-mail ([email protected]).

Requirements:
commitment;
free time;
knowledge of graphic programs (e.g. Adobe Photoshop);
understanding of ironic comedy;
---
Facebook
We also encourage everyone to leave a like and a sub on our Facebook fanpage, those who haven't subscribed yet to our fanpage missed an opportunity to win a free pet from our store just for showing us a picture of your desk. Don't make that mistake again and leave a like!
YouTube
A new Youtube contest is also a head of us so make sure to subscribe to our channel in order to participate in the near future ;)
---
FanArt Event
Dear Atlantiss Community,
we are now introducing our first Atlantiss Art contest to you. Of course, every contest needs it's rules and requirements so we'll start with that.

Everyone who owns an account with at least one level 85 character on Dragonwrath can take place in this contest. We do not force you to do a specific kind of art, as long as it has to do with World of Warcraft or Atlantiss. You can sing a song, write a poem, draw a picture, do a little cinematic, whatever you feel like doing.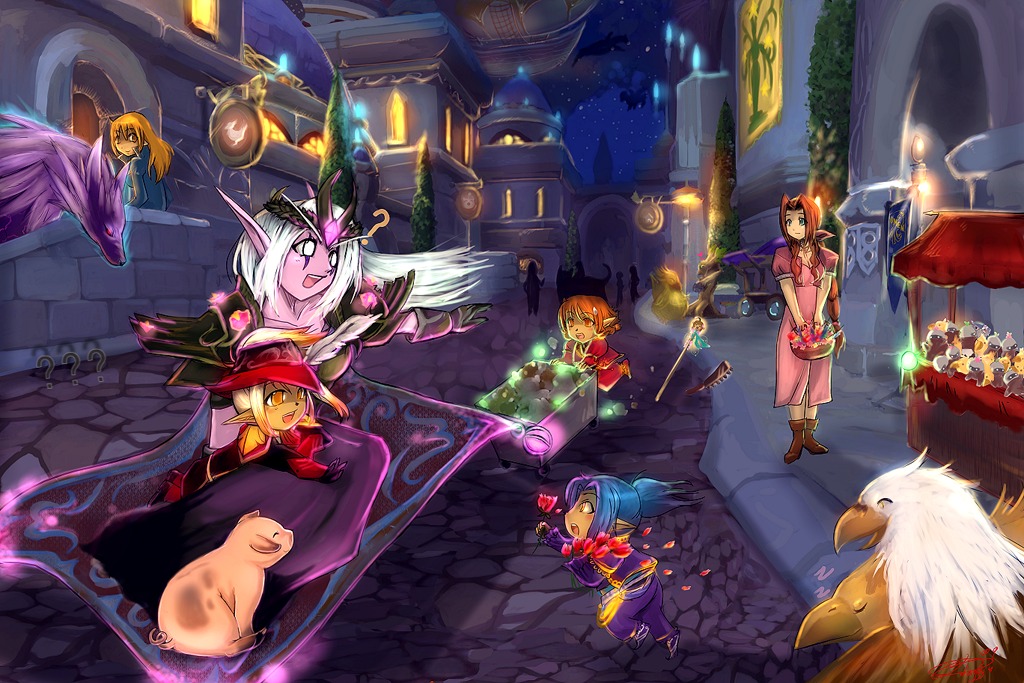 Our server rules apply to this contest, which means english only. Insults, racism, harsh violence or drugabuse just as 18+ content will not be tolerated and will not count as a valid entry.
Only entries submitted from the 08.07.2017 12:00 AM until 14.08.2017 12:00 PM will be considered. All entries must be submitted as digital files. There is a limit of two entries per player/IP. Using non-original created content is not going to be considered and is going to lock you out from future Art Contests. Rewards will only be sent to the account you entered with.
After the entry time is over we will start with the rating phase which is going to take about a week. Our judges are top-secret and include players as well as staff members.

Rewards
First Place: 200 Donation Points
Second Place: 150 Donation Points
Third Place: 100 Donation Points
Places 4 and 5 can choose one item from our "Old School Stuff" category.
Take your chance and sent your entry to Enraya via mail [email protected].

For questions regarding this contest message Enraya in Discord or on our forum.
BTW: Please welcome our new GM: Fratyr